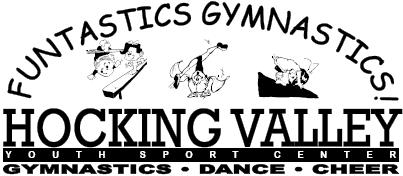 HOCKING VALLEY
YOUTH SPORT CENTER

FUNTASTICS GYMNASTICS!

Our gymnastics program for boys and girls who are in Kindergarten or younger. Students can begin taking classes when they begin walking. Students learn important fundamental skills for gymnastics as well as eye-hand, eye-foot and general kinesthetic awareness skills. All of these activities will not only help them develop physically, but will actually make a big difference in their brain development as well.

Did you know that children who take gymnastics do significantly better at reading, when the time comes? No big surprise, though. It is well known that cognitive development goes hand in hand with full-body coordination activities. In the beginning, classes are separated by age and boys and girls take class together. As they progress, if they show great aptitude, they may be asked to move to a more advanced class, which will be gender specific.

It is our mission to provide youth with high quality training in a positive and family-friendly environment. The purpose of this training is to enable our students to be the very best they can be at whatever they do. Positive personal character development and sportsmanship are just as important to us as competitive success. We believe that the pursuit of excellence in sport, coupled with positive character development, will give students self-discipline and promote positive self-esteem while preparing them for excellence in all aspects of their lives and give them skills to positively impact the world.